The end of the financial year is rapidly approaching for many corporations, and oftentimes, this equates to a lot of increased hours and stress for companies and their employees.
For many of us, tax time can be a daunting stretch; we become faced with an overhaul of transactions records, the rush to finalise payment summaries and the tedious task of grouping together all of those income and expenditure statements whose location we're just not quite sure of. Whilst we agree these can be stressful tasks, we also strongly believe that the end of the financial year should be a time of celebration – to celebrate your staff! And, what better way than to provide the office with an awesome and insanely delicious lunch?
But how, you may ask? – Especially amongst the hundreds of other tasks that must be finalised before the end of the month? Well, not to worry because we've got you covered! Here is our 'how-to feed your team for your end of financial year celebration guide'.
First of all, you need to gather some important information:
How many people are you feeding?
Are there any dietary requirements? Vegetarian, vegan, gluten free, paleo, allergies?
Are there any food preferences?
What time will the lunch take place?
Where will you host your lunch?
Setting up for the meeting
Whilst giving your employees a great lunch is a token for all of their hard work, the area where you all eat, still needs to be functional and practical space for a meeting. In order to ensure this, be sure to leave enough space at each seat for laptops, papers and of course lunch! Also, if someone is planning on making a presentation, keep in mind that the arrangement of both tables and chairs should allow ease of vision and avoid people having to shuffle around before and during the presentation.
Serving
Depending on what you decide to serve, pre-setting the table with plates, cutlery and napkins will ensure a smoothly run lunch, where employees can simply enter, grab their food and proceed to a seat. Alternatively, if you decide to do a buffet 'share' style set up, all dinnerware can be placed before the first food option, and employees can move down the line consecutively. Beverages should be set up on a separate table, to avoid any collisions between people grabbing food and people grabbing drinks.
Food Suggestions
EOFY will definitely bring a lot of statistics and analytical discussion to the table, however the real importance behind this team lunch should be the importance of bringing every body together. A great way of achieving this is through share menu options, and we have just the perfect suggestions to offer!
Sushi and Rolls Platters
by Sushi on Oxford St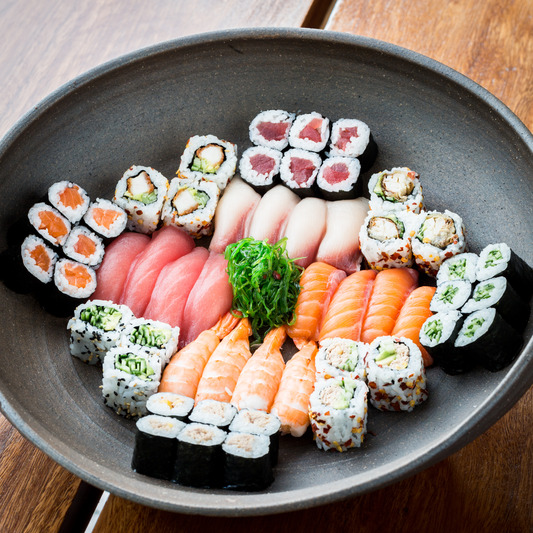 Includes an assortment of the following:
Vegetarian Mini Rolls
Crumbed Chicken Nigiri
Raw Kingfish
Raw Spicy Tuna
Build Your Own Taco Buffet
by Kirsty Lou's Kitchen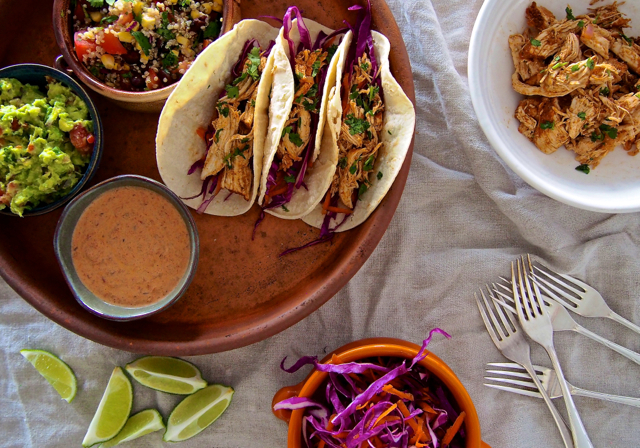 Includes:
Make-your-own Taco Wraps:
"Chews" from free-range, slow-cooked chicken,
pan-seared salmon, or marinated tofu.
All served with fresh-made corn tortillas
Mexican-style Quinoa, Sweet corn and Mixed Bean Salad
Rainbow Vegetable Slaw
Fresh Guacamole
Homemade Chipotle Sauce
OzAsian Lunch Buffet
by Char Rottiserie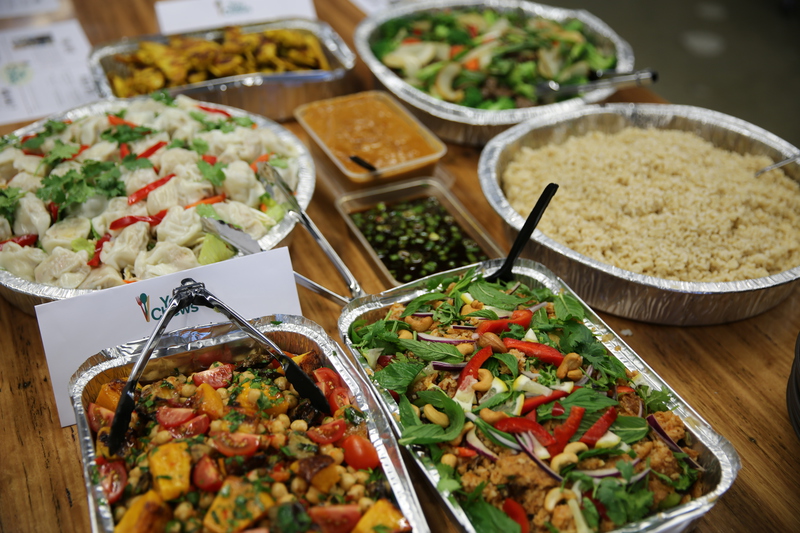 Includes:
Beef Stir-Fry with Chilli Jam and Cashews
Steamed Brown Rice
Mini Chicken Skewers
Chinese Chicken Wonton Salad
Chickpea & Pumpkin Salad
Vermicelli Glass Noodle Tofu Salad
No matter what you decide to serve, just remember that meetings like these are primarily beneficial for increased productivity and positive work place culture in the office. Studies have shown that by rewarding employees both appreciation and satisfaction increases and in turn ensures a much more efficient team to work with. End this financial year and start the new one on a fresh and positive note.